We launched on 24th June 2012 at 5.00pm. Exciting times and wonderful support from family and friends. Thanks to Janet and Sparkle for the video and memories
WATER WANDERES
LAUNCH
JUNE 2012


1/3/2016: Unite on the Swan
Water Wanderers has teamed up with Canoeing WA to attempt to break a Guinness World Record and raise money for victims of the Warren District Fires. To break the record we will need 3200 West Australian and their paddle craft uniting on the Swan River on Sunday 10 April 2016 at 7.00 am.
14/3/16: New 'Unite on the Swan' promo video (extended version) released!
We have released a new promo video to visually present what we have in mind with our attempt to break the Guinness World Record for the largest raft of kayaks / canoes / skis on Sunday April 10, Swan River, Perth!
To officially register for UNITE ON THE SWAN, go to:www.pozible.com/uniteontheswan.
100% of proceeds from ticket registrations will be donated to Lord Mayor's Distress Relief Fund.


11/4/16 Official Event Video by Skyworks WA
Wonderful buzz in the raft. A real Unite on the Swan feel and such a diverse community of paddlers and craft!
John and Colette from SkyWorks WA, thanks so much for perfectly capturing such a special morning on the water!…
Link to official event video (high definition). Click "Watch on Vimeo
12/4/16: Unite on the Swan on TV!
Unite on the Swan made the news! If you missed the segment on Perth's Channel Ten news, catch up here:

A huge thankyou also to everyone who participated, and to all our partners for their support and helping to make this event a reality (in alphabetical order): About Bike Hire – Kayaks, C4 Waterman Australia, Cowan & Partners, Captain Cook Cruises, Dear Rabbit Photography, Department of Transport WA, Experience Perth, Funcats Watersports, Jesse Phillips (Double Down Under // Jesse Phillips and Steve Bird), Paddlesports Megastore, Peter Ashby, Ray's Outdoors, Red Bird Creative, Ron Farris Real Estate, Royal Life Saving Society – Australia, Spirit Paddle Sports, The Cleaver Street Coffee Shop, The Pink Tank: Promotions, Design & Print and Perth City.
Presenters Canoeing WA and Water Wanderers now look forward to organizing the next Unite on the Swan record attempt! Stay tuned!
19/4/2016
Water Wanderers' tour of Ascot Waters featured by The West Australian - thewest.com.au
History and adventure on the Swan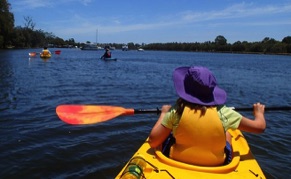 7/11/2016 - Extra-super Moon on the Swan
Special Water Wanderers Sunset tour. Monday 14 Novermber 2016, meet at 5.30 pm. This is a special moon to watch as it will reach its closest point to Earth in 70 years. This extra super moon is not expected to reappear again until 25 November 2034.
Cost: $79.00 per paddler or $138.00 for two paddlers
Meet: 5.30pm at 58 South Perth Esplanade, South Perth.
Duration: 2 to 2.5 hours
From our perfect vantage point on the Swan we will watch the day change to dusk, the sun set and the super moon rise. we would love you to come and wander on water with us to share this memorable occasion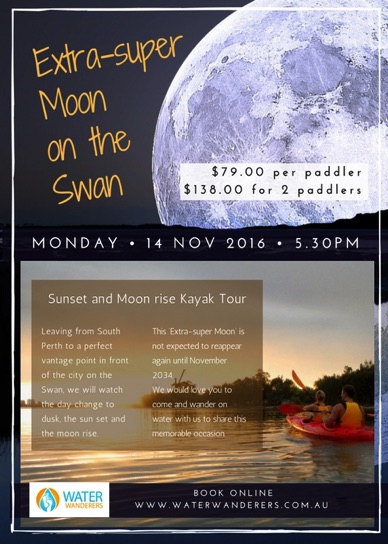 14/02/2017 - Valentine's Day Special Offer
Special Water Wanderers Sunset tour for Valentine couples. Something a little bit different and definitely special.
Date: Tuesday 14 February 2017
Cost: $158.00 per couple
Meet: 5.30pm at 58 South Perth Esplanade, South Perth.
Duration: 2 to 2.5 hours
Included with our romantic kayaking package is complimentary canapés, flowers and a photo.
We would you to come wandering with your special someone.